Resources

Source: Beijing DINOS Environmental Protection Technology Co., Ltd

Author: Beijing DINOS Environmental Protection Technology Co., Ltd

Date: 2021-03-09
     Beijing DENOX Environmental Protection Technology Co., Ltd. pays attention to technology introduction and absorption. It is the first enterprise in China to introduce   the whole process of foreign plate catalyst . Professor play was employed as the company's long-term technical consultant to guide and accelerate the upgrading of plate catalyst who is  from European catalyst industry standards committee.With the steady increase of the company's domestic market share, increasing product types and improving product performance have become the main factors restricting the market layout.
      Company size up the situation, and South Korea Esko company reached a strategic cooperation agreement, mutual sharing of honeycomb and flat plate denitration catalyst technology and performance, for the company's honeycomb catalyst production and market to lay a solid foundation, but also improve the company's product range, our company has become one of the enterprises with fixed process source and mobile Road source catalyst production.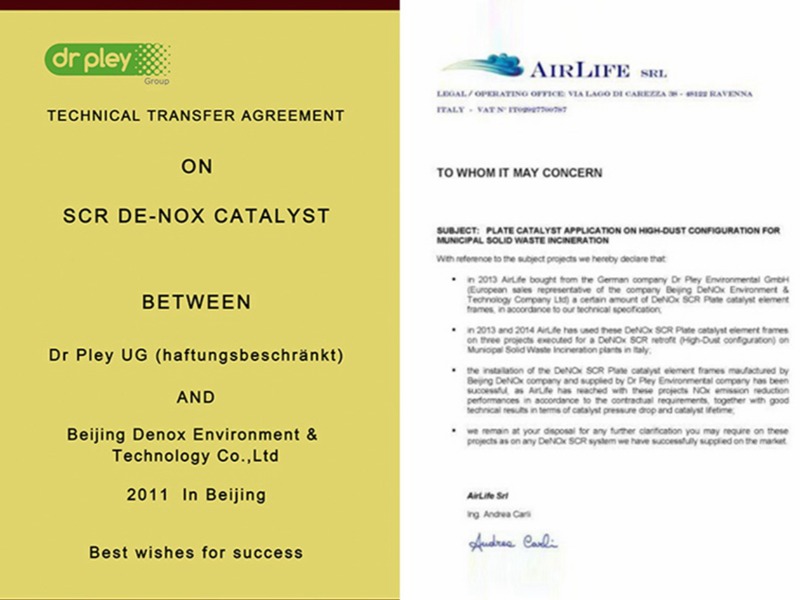 Flat Plate Catalyst for denitrification
The company's flat-panel denitration catalyst technology was transferred from a German company, the content of technology transfer includes medium and high temperature formulation, production process, quality control, laboratory development and testing technology, system design and so on. Is the first domestic full denitration process to introduce enterprises.
Low temperature honeycomb denitration catalyst
The company's low-temperature SCR denitration catalyst technology transfer from ESCO Company of Korea, the technology transfer covers the low-temperature formula of the honeycomb type denitration catalyst, the exchange of the flat plate type catalyst and the honeycomb type catalyst, the achievement sharing and so on, it makes up the product blank of our company in the market of low temperature denitration catalyst.
Share: